"Become Certified as a Trainer in the Fields of NLP, Hypnotherapy, TIME Techniques, Success Coaching and Emotional Freedom Techniques and Train Others at the Practitioner and Master Practitioner Levels!"
Includes FIVE trainer certifications in one training at No Additional Cost!
Join us for this amazing eighteen-day training taught by a certified Master Trainer of NLP, Hypnotherapy and TIME Techniques™.
We will teach you the techniques and the process of becoming an amazing trainer. Whether you want to train and certify others at the NLP Practitioner and NLP Master Practitioner levels, or present and train people in other areas of your experience, this live training is for you.
Many people have called this the most important training they've ever attended. If you're ready to propel yourself to success, now is the time to do it. Sign up early on this website for our special online-only early-bird discounts.
The next Annual Trainer's Training is only 10 days away!
Click here
to enroll in this amazing training in Atlanta Marriott Suites Midtown, Atlanta, GA, right now at the special "early-bird price" before it's sold out! Check the schedule for other upcoming dates and locations.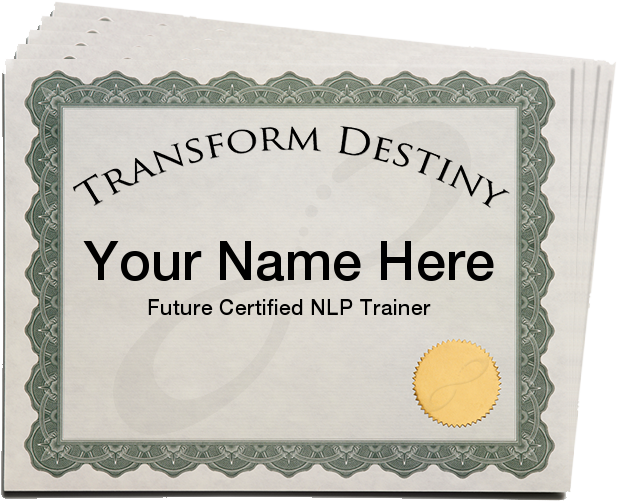 Become an NLP Trainer and Professional Public Speaker
In this life-changing live Trainer's Training, you'll learn how to become an authority and an expert presenter — not only in the field of NLP, but in any field. We'll share with you powerful principles that will have people leaving your events saying, "that was the best thing I ever did!"
Experience the Joy of Training and Certifying Others

Here's what to expect in this NLP Trainer's Training:
Kiss Stage Fright Goodbye and Eliminate Your Fears
If you've ever had a fear of public speaking or performance, get ready to kiss it goodbye. In NLP Trainer's Training, we'll completely blow out any areas of fright you might have using proven NLP and TIME Techniques

™

processes. Before long, you'll actually be excited about going on stage!
Behaviors of an Excellent Trainer
Learn how to give incredible presentations, seminars and trainings. We'll share with you 30 behaviors held by those who are masters at the art of presentation and public speaking. Of course, standing in front of a room of people, you probably couldn't remember to do all 30 things, consciously. So we'll layer them in through a powerful anchor called the "Trainer's State" so they actually become part of your presenter persona, making it all automatic.
Conscious/Unconscious Teaching
We'll share with you techniques for teaching your students both consciously, and at the unconscious level for maximum learning.
Stage Anchoring
Learn the secrets of amazing presenters like Anthony Robbins and Harv Eker, and how they use the stage to anchor and trigger states in their audience. This is an extremely powerful technique.
Understanding Learning Styles
By now, you probably realize that not everyone learns in the same way. There are years of research behind this concept, and we'll share with you the secrets of teaching to people with diverse sets of learning styles, and how to cater to each one in such a way that nobody gets bored, and everyone learns efficiently.
Controlling Your Room
We'll share with you incredible ways to get a "feel" for your entire room, create a personal connection with everyone in your audience, and how to deal with hecklers and trouble makers.
Demonstrations and Subjects
You'll learn the secrets behind doing successful NLP demonstrations in front of an audience, every time. You'll learn just how to always screen and pick the best demo subject for maximum (and the quickest) success you can show your students.
State Elicitation with Metaphors
We'll share with you the most powerful techniques for creating and delivering metaphors that will not just tell your stories, but have your audience feeling your stories with you. Imagine invoking emotions at-will from the front of the room, and taking your subjects into a light learning trance at the same time. This is the power that metaphors give us.
Controlling the Energy of the Room
Have you ever seen a presenter who you just felt had a great "energy"? This is not accidental. You'll learn how to be an energetic presenter and share that energy with each and every person in your audience, leaving them feeling that you're the most amazing presenter. This is a must-have technique that most presenters are completely unaware of.
Group Process
Insure that your audience bonds quickly and deeply, making your events even more profound for them. There are certain stages of evolution that every group will go through. Learn to understand group process, and how to recognize it in your audience so you can assist them in becoming most productive.
The Business of Training
Learn the tricks of the trade - the secrets to the seminar and training business in the context of NLP trainings and motivational seminars. Very powerful information!
Heartfelt Testimonials from Some of our Graduates
"Trainer's Training is a phenomenal training and needs to be the goal for anyone starting their journey in NLP." -Tim Tarango, Los Angeles, CA
"Thank all of you for the most transformational training of my life" -David Bouchez, San Clemente, CA
"Trainer's Training has been the best training I've ever had and I commend Transform Destiny for their expertise, practicality and care. If you want to transform your speaking and presenting skills to the next few levels, invest in yourself and attend Transform Destiny's Trainer's Training." -Cesar Vargas, Santa Ana, CA
"I entered as a timid, nervous young man, not knowing how to express myself in front of a crowd. I left as a confident, congruent man with a burning passion to go out and connect with people, spreading a message of love and oneness that will ripple out, creating an unstoppable positive change in the world." -Christopher Rodriguez, Anaheim, CA
"This is a must take course for anyone who wants to train students or motivate an audience. I've been training people for five years and the skills I learned in this course completely changed my perceptions and beliefs on training and public speaking." -Matt Barmore, Seattle, WA
"Wow!! What can I say? It took me just 16 days to take care of a problem I've completely struggled with all my life — stage fright. I will never forget the people, the process, or the change it's made in my life. Thank you with all my heart!" -Drew Barmore, Seattle, WA
"I transformed so much during the process, I'm a better human being just because of being here at this training." -Andrew Fitzgerald, Mission Viejo, CA
"I feel totally confident speaking in front of people! Learning how to speak was just as fun as doing the actual presentations! This class made me feel so alive! It's much easier for me to talk to entire groups of potential clients. Because of this class I'll never use a hypnosis script again!" -Chelsea Burns, Costa Mesa, CA
"The training is absolutely amazing. I came away with a confidence to be able to go out and use my new skills immediately. I've been to trainings of the same content — the difference with yours - you care above and beyond! You teach in a way that can be understood, integrated, and mastered. I have grown in such a way that everyone (friends, family, and new acquaintances) notice that I've got something and they want it!" -Johnnie McClelland, California
"Thank you, great training! I learned a lot, and I feel more confident about my abilities." -Don, San Fernando, California
"JOB WELL DONE! WOW! Thank you for your level of heart. It's amazing that you were able to format how to train from the heart into a series of techniques! Forward with confidence -Aloha" -Brent Howard, Hermosa Beach, CA
"This training was like looking in the cosmic mirror. I saw all my talent, all my beauty, and where I need to stretch and grow. I stretched my resources like I never knew I could in order to attain the greatness that laid deep inside. My path is lighted with all the friendships I developed at this training. This was by far the most transformational process of my life. Thanks for all the resources, support, guidance, and the transformation. The trainers are the pillars that support this amazing experience, without them this training would never have been as successful." -Jennifer Hamlin, Lake Forest, CA
"This training put me on a level with presenters who have been speaking for 20 years. It was one of the most intense, most transformational trainings I've ever taken, just because of the way it was designed. I went from a somewhat awkward to presenter to having the presence to hold a room with 1,000 people." -Chris Grumbles, Costa Mesa, CA
"Truly the most intense growth experience I have ever had! I cannot recommend it enough!!" -Ryan Camana, Santa Barbara, CA
"This has been amazing. I feel completely transformed in regards to speaking in front of people" -Chris Crocket
"Trainer's Training is a combination of learning, growing and doing - the way school should always be! Truly a training model of excellence." -Michael Hunter, Tarzana, CA
"I would recommend this training to those who would like to challenge their lives at a core level. No flash - no flare, just great work." -Randy Boring
"I pretty much love Transform Destiny! They come from a place of genuine, positive intention and is committed to his students' excellence." -Ami Izzo
"Thank you for taking me to the next level. I look forward to going to and sharing NLP with as many people as possible. I now know that my message will be well received by everyone, thanks to this training. Speaking and presenting are now in my timeline." -Alisha Camana, California
These trainings meet the standards of the International Board of Coaches and Practitioners and other boards, so your certifications have world-wide recognition. Upon successful completion of the Evaluation section of this training, you will be eligible for certification as a Trainer of NLP, Hypnotherapy, TIME Techniques™, EFT and Coaching, and will have the authority to train and certify others at the Practitioner and Master Practitioner levels.
Why We're Different from Other NLP Trainers and Institutes
We're committed to your success. While many people complain about the relative inaccessibility of other NLP trainers – many of whom even regard themselves as celebrities – Michael and our other trainers are open, approachable and accessible. We strive to help you become a success in the NLP field even after graduating from our classes.
"It hasn't even been a year since I received my Trainers Training Certification at Transform Destiny and I've already brought in over 200 students to my online and In person practitioner training (which is over half a million dollars in sales)! I can't thank Transform Destiny enough for providing so much material and support to help me train my students and help them get incredible shifts in my own Certification programs! I highly recommend investing in yourself and becoming a Trainer and learning how to speak confidently, stand in front of a group, and lead your own Certification programs!" -Reese Evans, YES Supply
We're a different, more progressive trianing company. That's why we are making this special offer:
NLP Trainer's Training Bonus!
We're going against the grain in this field and setting a new standard. We are now including the Hypnotherapy, TIME Techniques™, Success Coach and EFT Trainer's Trainings at no additional cost when you attend this training! (Other institutes charge extra for these after you sign up!)
Once certified, you will be qualified to train and certify people in all these fields at the Practitioner and Master Practitioner levels. This is an amazing value worth more than $5,700!
Hypnosis Trainer's Training — included as part of the NLP Trainer's Training (Full Value $1,700):
Group Hypnosis
You asked for it, and now we've got it! You'll learn how to run group hypnosis clinics for smoking, weight loss and more!
Advanced Metaphors
Learn how to use metaphors to put an entire class into a light trance. This goes way beyond the one-on-one metaphors you've learned to this point, and is incredibly useful to you as a presenter and trainer.
Four Methods of Hypnosis
We'll share with you how to teach the four most common styles of hypnosis, and several formats they can be taught in, from one-day self-hypnosis course, to the powerful weekend intro trainings, to the full one-week hypnosis trainings. You'll learn how to teach your students methods based on Erickson, Elman, Estabrooks and Krasner.
TIME Techniques™ Trainer's Training — included as part of the NLP Trainer's Training (Full Value $1,400)
Teaching TIME Techniques
Be the expert! Learn how to teach TIME Techniques™ at both the Practitioner and Master Practitioner level.
Group TIME Techniques
Including how to work with groups sized two to a thousand. This is the basis of many of the weekend motivational seminars in the industry and will serve as an invaluable tool you can add to your training and/or seminar business.
TIME Inductions
For the first time ever, we'll share the secrets behind our Transform your Destiny TIME Induction. You'll learn when and how to create timeline inductions yourself.
Life and Success Coach Trainer's Training — included as part of the NLP Trainer's Training (Full Value $1,400)
Certify Students as Coaches
You'll have all the knowledge and skill you need to train and certify others in Life and Success Coach and Master Life and Success Coach
EFT Trainer's Training — included as part of the NLP Trainer's Training (Full Value $1,200)
Certify Students as EFT Practitioners
You'll have all the knowledge and skill you need to train and certify others in Emotional Freedom Techniques
"Within 30 days of finishing Trainer's Training I was able to speak in front of 400 people internationally, and sold $23,000 in my own seminars in just one hour. I have continued since with Michael's Master Trainer Development Program. With his mentorship and materials, I now run a seminar company doing seminars nearly every weekend. We are on target to break $1,000,000 in revenue by next year! Thank you Transform Destiny!" -Matthew Brauning, Evolution Seminars
More Trainer's Training Bonuses!
In addition, we're offering the following bonuses valued at $9,170:
NLP Training Video/Audio Sets ($1,100 value)

Video recordings of our trainings and workshops for your review as a trainer before your trainings
These trainings are the bread-and-butter of the business
Includes the entire Learn Hypnosis... Live! video collection
Includes the entire CORE Success Coach video collection
Intro to NLP videos
Create Your Life: The NLP Experience video collection
NLP Practitioner Training video collection
NLP Master Practitioner Training video collection
Model our trainings to create your own so you don't have to reinvent the wheel!

Mastering the Business of Speaking Video Training ($500 value)

An in-depth home study video course about how to succeed as a trainer and speaker
How to carve out your target market and create your marketing message
How to design classes and trainings from scratch
How to create lucrative home study video courses from home without a TV studio
Everything from software to equipment
How to market your trainings and courses on the internet

NLP Trainer's Training Video Collection ($2,500 value)

Videos unlocked upon graduation for review of training material
A recording of all the material from Trainer's Training
Refresh your memory on what you were taught
Keep improving on and growing from the material and exercises from the training
Other institutes charge thousands for these videos. With Transform Destiny, they're included for free

90-Day Trainer's Guide ($20 value)

Steps to help you plan, market, sell and fill your first training
A step-by-step guide of action steps to hold your first "intro" event within 45 days, and your first NLP Practitioner training in 90 days
These Michael's closely guarded secrets to success in this field!

Professional Nine-Page Customizeable NLP Practitioner Website ($5,000 value)

Build your professional website in as little as a few minutes (Template 1, Template 2, Template 3)
Edit your site in your browser (no sofware, programming knowledge, or HTML skills needed). Just point, click, type and save
Built on ClickFunnels, the world's #1 marketing platform. Account includes website hosting, funnels builder, email autoresponder service, automated webinar hosting, and the ability to charge credit cards for your practice. (Coming soon, blog, and Shopify-style store are coming, too)
At least a $5,000 value!

One Month Membership to the E.M.P.O.W.E.R. Program ($50 value):

Two live group coaching calls per month with NLP Master Trainer Michael Stevenson
Ten months of archived calls for you to listen to
The Best Support in the Industry
Every person in our office is certified Certified Trainer, Master Practitioner or Practitioner of NLP, TIME Techniques and Hypnotherapy. This means, when you call our office, you will not be given the runaround by "sales staff," as with other training companies. With Transform Destiny, you'll talk to a real NLP professional who can answer your questions, every time. No other NLP institute we know of can make this claim. This is why we offer world-class, unbeatable support.
Flexible Interest-Free Payment Plans Available
We understand that times have been tough. That's why we've created our new flexible payment plans to make coming to this event a reality for you.
You decide how much to put down, and how much to pay each month.
No hassles - just setup the plan and your payments will be deducted automatically with a small administration fee.
If circumstances change, you can adjust your payment at any time — lower, if needed, or pay off the balance sooner, it's up to you!
As long as your payments are current and your account is in good standing, you can come to the training anytime.
There are no credit checks necessary. We will take you on your honor and your word that you will pay what you owe on time.
There's no price penalty for paying on a plan, like other institutes impose. You'll get the same great specials as everyone else.
It's easy to get started. Simply pick a date below and click the "Setup a Payment Plan" link.
This training is typically only held once per year and is available only to Certified Master Practitioners. This is an exclusive event and sells out quickly, so enroll now!
Tax Deductions Available
US Treasury regulation 1.1625 permits an income tax deduction for educational expenses including registration fees, tuition, travel, meals, and lodging for courses taken to improve or maintain skills required in employment or business. Many of our students write off their tuition and travel expenses. Consult with your tax professional.
Get This Training For Free!
When you become a member of our Accelerate NLP Program, this training is included with the Diamond level! Click here for more info.
Daily Schedule
First Day: 10am - 8pm
Most Other Days: 1pm - 8pm
Except: Days 16, 17 and 18 of the training are from 10am - 8pm
Days Off: Day 7 and Day 15 of the training are days off
Apr 11 - 28, 2023, Atlanta, GA
With Certified Master Trainer of NLP, Ryan Simmons
Jul 31 - Aug 17, 2023, Los Angeles, CA
With Certified Master Trainer of NLP, Ryan Simmons
Future Event, Choose Your Date Later
Ticket to a Future NLP Trainer's Training (Choose Specific Date Later)
Enroll in the Annual NLP Trainer's Training
Yes, Michael, I want to become a trainer of NLP, TIME Techniques, Hypnotherapy, EFT and Success/Life Coaching! I understand that this is a Limited Time Offer. Plus, I feel completely confident enrolling based on your reputation and the iron clad, money back guarantee. Sign me up now!

I'm ready for:
The LIVE Eighteen-Day Accelerated Certification Course
Beginning My New Career as a Trainer and Speaker
FIVE Trainer Certifications: NLP, Hypnotherapy, TIME, EFT, Success/Life Coach Trainer
Mastering the Business of Speaking Home Study (Immediate Access!)
Other Valuable Bonuses
Instant Access To These Bonuses and Pre-Study Courses!
Payment plans available at checkout
(Note: Price above includes a one-time $100 completion certificate fee)
---
About Your Transform Destiny NLP Trainers
---
Ryan Simmons's Credentials
Certified Master Trainer of Neuro-Linguistic Programming
Certified Master Practitioner of Neuro-Linguistic Programming (NLP)
Certified Master Trainer of Success and Life Coach
Certified Master Success and Life Coach
Certified Master Trainer of TIME Techniques™
Certified Master Practitioner of TIME Techniques™
Certified Master Trainer of Hypnotherapy
Certified Master Hypnotherapist
Certified Master Trainer of Emotional Freedom Techniques
Certified Practitioner of Emotional Freedom Techniques (EFT)
Board Certification by the International Board of Coaches and Practitioners
The Transform Destiny NLP Practitioner Training Program was voted globally as the #2 best NLP training program out of literally thousands of programs around the world by the Global Gurus Foundation.
The Transform Destiny Company is also certified as an approved training institute by IBCP, IHF, ABNLL, and NLC.