"Become a Certified Success Coach From the Comfort of Your Own Home"
Discover how to coach yourself and others to success in any area and even make a living as a professional Success Coach!
How would you like to set your own hours, set your own pay and do something really meaningful, all while working from the comfort of your own home?
You're probably thinking, "Yeah, right." I mean, nobody gets to live like that, right?
That's what I thought when I was still a computer programmer working 9 to 5 in an office "cubical farm".
The fact is, more and more people are becoming entrepreneurs.
By the thousands, people are quitting their day jobs and starting up their own businesses.
The only problem is, most of them lack discipline, drive, and a real plan.
It's during these critical times that those people need a coach.
Coaching is all about using simple, specific tools to help people achieve their wildest dreams.
And the good news is, coaching doesn't require years of schooling or specifics knowledge about any industry or business.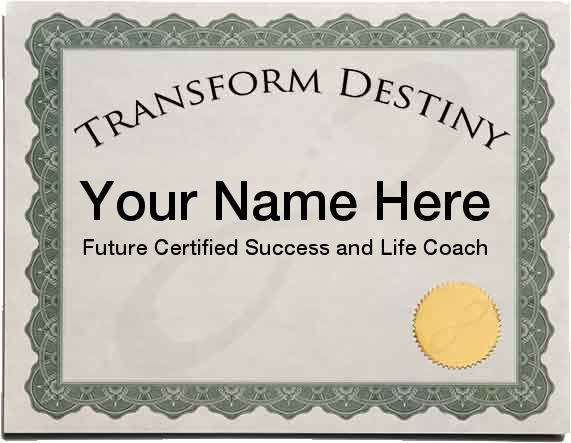 Benefits of Becoming a Coach
Set Your Own Hours
Work From Home or on Vacation Over the Phone
Set Your Own Pay
Really Make a Difference
Coaches are In Demand
Coaching Can Be Very Lucrative
With all these wonderful benefits, you're probably thinking that becoming a coach requires a lot of money or a lot of time.
The truth is, you can become a certified coach in just a few days from the comfort of your own home!
We've created a seven-step coaching system that's easy to learn, easy to remember, and easy to use. We call it the CORE Method:
Creating
Outstanding
Results for
Empowerment
In just a few hours, by following along with the videos and materials, you'll learn our powerful seven-step method for coaching yourself and others in our CORE Method Success Coach Certification eClass.
Within a few days, you'll learn how to coach yourself and others using sure-fire, almost self-working techniques.
Upon graduation, you'll be qualified to make an impressive income working from your own home or office with your certificate in Success Coaching you'll earn in this online course.
No prior experience is necessary, and no degrees are required.
In This Cutting-Edge Online Coach Training, You'll Learn:
The tools that coaches use to create success
Powerful questions that create total motivation and success
How to set achievable outcomes for yourself and for your clients.Powerful ways to motivate your clients
How to create long-term and short-term goals for success.
How to get strong commitments from yourself or your clients.
How to take the actions necessary to create success.
PLUS, learn the business of coaching - how to market yourself as a coach
"Michael has the ability to capture the audiences' undivided attention. His level of knowledge and understanding is incredible." -Marsha Kaprielian, Bakersfield, CA

Since taking our training, Marsha – a Nurse Practitioner – has been using these advanced techniques in her practice.
Why We're Different from Other Trainers
We're committed to your success both in and out of the training. Michael strives to help make you a success even after you graduate.
We not only teach coaching, we are coaches, and we're dedicated to helping you become a certified success coach.
That's why we are making this special offer:
Success Coach Training Bonus!
The following items are included with this success coach training for free:
Bonus Scripts and Forms: You'll get online access to our Member's Only Site including the template scripts and forms we use in our private coaching practice in Microsoft Word format. PLUS, you'll receive success ebooks, including the classic, Think and Grow Rich by Napoleon Hill.
Retake the Class Any Time: Once you're a graduate, you can log back in and watch any part of the class at any time, for free.
The Best Support in the Industry: Every person in our office is a practicing, Certified Trainer, Master Practitioner or Practitioner of NLP, TIME Techniques and Hypnosis. This means, when you call our office, you will not be given the runaround by sales staff, as with other training companies. With Transform Destiny, you'll talk to a real NLP trainer who can answer your questions, every time. No other NLP institute we know of can make this claim. This is why we offer world-class, unbeatable support.
Michael, I just want to thank you for the great job you do in these seminars. I wasn't sure what to expect but your whole setup put me at ease. I do believe you thought of everything and it was flawless. The most important component, however, is you and your commitment to transform the world. So just keep up the good work and know you are making a difference. -Patricia, Nevada
How It Works
Just log into the site play the video lessons in your web browser.
At the end of the videos, take the short online test and submit a video or audio of yourself doing the techniques.
It's as easy as that!
Full Support Along the Way
I will personally monitor your results throughout this online certification training and we will be available for questions by email, by message board, and by phone anytime you need us.
After completing this short course and turning in your final examination and video, you'll be eligible for certification as a Success and Life Coach - all from the comfort of your own home!
This training is approved by the International Board of Coaches and Practitioners, so your certificate will have world-wide recognition.
How Long Does It Take?
This is a work-at-your-own pace training! You can watch the videos and take the test at whatever pace you'd like, though most people finish it in three to four days.
Everything you need to begin is available right on the website and you'll receive your login the instant you sign up!
This is an incredible value! A live training with me would take three days and cost several hundreds of dollars more, PLUS travel and lodging!
No other training offers this combination of online tools and services specifically designed to create your success with Success Coaching.
Who This Course is Designed For
Homemakers and single parents
Retirees looking for a something new
People with physical disabilities
Busy executives looking for a career change
Coaches and family therapists who want powerful new tools
Sales and business professionals who want to learn self-coaching
You! Sign up already!
Take part in something new and exciting with this online certification training. Enroll now and get instant access!
Get The Non-Certification Version of This Training as Part of the Members Only Passport
Now you can get the non-certification version of this course, along with a HUGE selection of our online courses, covering NLP, influence, persuasion, relationships, coaching, therapy, sales and more, PLUS two live group coaching calls each month with NLP Master Michael Stevenson, as part of our Members Only Passport membership.
You'll get immediate access to the Members Only Passport courses for less than the price of a cup of coffee each day!
Click here to read more about the Members Only Passport and enroll today.
Tax Deductions Available
US Treasury regulation 1.1625 permits an income tax deduction for educational expenses including registration fees, tuition, travel, meals, and lodging for courses taken to improve or maintain skills required in employment or business. Many of our students write off their tuition and travel expenses. Consult with your tax professional.
New Discounts!
If you are a member of Michael's Inner Circle, you get a discounted rate for this event — as much as an additional 15% off! Click here for more info.
Watch the
Free Sample

, Then Enroll
Enroll Now in the CORE Success Coach Home Study
Total Value Including the Course and All Materials (Normally $1400):
Limited Time Special:
Full Value: $1400
Now Just $297
You Save $1103! (That's 79% off!!)
Payment Plans Available at Checkout


Price includes a $50 certificate fee
---
Get the Non-Certification Version of This Course With the Members Only Passport Video On Demand Membership
Get the non-certification version of this course, along with a HUGE selection of our online courses, covering NLP, influence, persuasion, relationships, coaching, therapy, sales and more, PLUS two live group coaching calls each month with NLP Master Michael Stevenson, as part of our Members Only Passport Video on Demand Membership.
You'll get immediate access the Members Only Passport courses for less than the price of a cup of coffee each day!
Testimonials from Some of Our Live Events
Comments From Other Happy Graduates:



"Michael Stevenson really knows his stuff and has the amazing ability of teaching others so that we get it! The class allows for individual attention and the ability to interact with others. I can't wait to learn more from him." -Johnnie McClelland, Brea, CA
"My first official client was a success! We worked on confidence issues and I even anchored a trigger into her that she could access anytime she had the need to feel the confidence that she has deep inside her. I just love helping people..." -Jenny
"Matt is an awesome trainer, full of energy and enthusiasm that is contagious. This course was comprehensive and affordable. I feel inspired. -Steven, Nashville, TN
"It was an EXCELLENT value for the money. 5 Stars! -Darlene Hastings, Nashville, TN
"I just wanted to let you know that I used your techniques with a friend of mine for smoking, and it worked perfectly!" -Matthew
"Michael is a great guy and a fantastic trainer. I now recommend all my friends and clients to him exclusively." -Omer
"I found my studies with Transform Destiny to be a wonderful and educational experience. I plan to take further courses soon and would recommend the program to anyone." -Ms. Thurman
Contact us today to sign up for this live training. Call 800-497-6614 toll-free, or 714-408-4281 direct.
---
About Your Trainer, Michael Stevenson MNLP, MTT, MHt
Michael is a best-selling author, business coach, success coach, and international speaker with impressive credentials and experience. He has helped nearly 200,000 people around the world learn to use the power of the mind to turn off the "autopilot," take hold of the controls, and create the life of their dreams.
Michael started Transform Destiny in the year 2000 with a deep passion for helping people transform their individual destinies, after transitioning from an unsatisfying field in computer programming.
Now, he heads Transform Destiny, the top NLP, hypnotherapy, and coaching training company in the world, and our trainers teach these valuable skills all over The United States of America, as well as other countries.
You can read more about Michael on his bio page.
Co-Star of the Documentary Movie
The Evolution of Success movie with Jack Canfield, Joe Vitale, Bob Doyle, and Others


Accolades
Voted the second most influential person in the field of NLP in 2020 by the Global Gurus Organization


Author of the Books
Influence to Profit: Turning Words Into Wealth With Ethical Influence and Persuasion
UnStuck: The Owner's Manual for Success
The Power to Create Your Day... Now!
Quick Fix: NLP Recipes for Bliss
Best-Selling Book Learn Hypnosis... Now!
Credentials
Certified Master Trainer of Neuro-Linguistic Programming
Certified Master Practitioner of Neuro-Linguistic Programming (NLP)
Certified Master Trainer of TIME Techniques

™

Certified Master Practitioner of TIME Techniques

™

Certified Neuro-Linguistic Master Learning Specialist
Certified Neuro-Linguistic Learning Specialist Trainer
Certified Advanced Parts Therapy Specialist Certification
Certified Eye Movement Integration Practitioner
Certified Business Coach and Business Consultant
Certified Master Success Coach and Certified Trainer of Success Coaching
Certified Master Life Coach and Certified Trainer of Life Coaching
Certified Funnel Optimization Expert and Customer Value Optimization Expert
Board Certificatied Through
International Board of Coaches and Practitioners
International Association of Counselors and Therapists
International Medical and Dental Hypnotherapy Association
American Board of Neuro-Linguistic Learning
International Hypnosis Federation
National Guild of Hypnotists
International Alliance of Professional Hypnotists
The Transform Destiny NLP Practitioner Training Program was voted globally as the top NLP Certification training program out of literally thousands of programs around the world by the Global Gurus Organization.
The Transform Destiny Company is also certified as an approved training institute by the International Board of Coaches and Practitioners and the International Hypnosis Federation.