ANNOUNCEMENT ABOUT CORONAVIRUS AND OUR LIVE EVENTS
We are very excited to announce that we are officially returning to our live, in-person trainings in areas where the public health departments have deemed it safe to have public mass gatherings.
If you've ever wanted to start your own business helping and coaching people one-on-one or in groups, NLP is the quickest, most effective training you can receive today.
Once you complete our 120-hour NLP Practitioner Training, you'll be qualified to work with others professionally with FIVE certificates:
Neuro-Linguistic Programming Practitioner
TIME Techniques Practitioner
Clinical Hypnotherapist
Emotional Freedom Techniques Practitioner
Success and Life Coach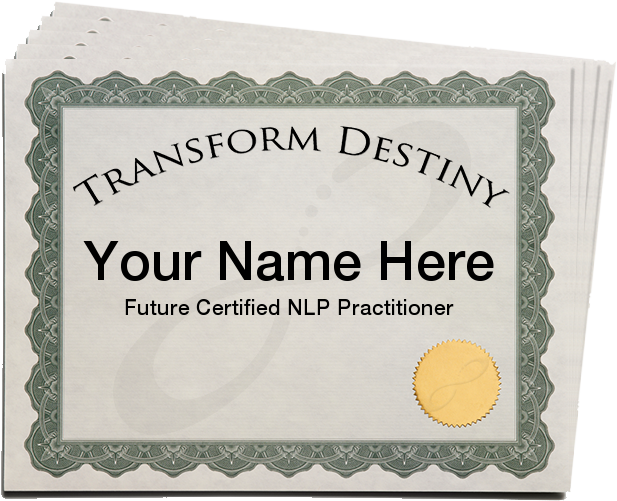 If you have a burning desire to help people, to be your own boss, to set your own hours, and to be really proud of what you do, then Neuro-Linguistic Programming is for you.
When you become an NLP Practitioner, it will not only allow you to help people professionally, you'll also be empowered to help your family, your friends and even yourself with one of the most powerful set of personal development tools ever invented.
And the best part is, you can choose to either attend our Live Seven-Day NLP Practitioner Training, or get certified from home in our NLP Practitioner Distance Learning program with one-on-one assistance from a Certified Trainer of NLP.
While many other institutes teach just the required NLP Techniques, we go further. We actually provide you with the sales and marketing skills, business knowledge and marketing tools to get your practice started and successful as soon as possible, as you will see when you keep reading this page...
Keinya Beasley I just got 2 clients today from mentioning my experience at NLP Practioner's Training... My goal was 5 by the end of August the end of the month and I have 3 [and it's only July]... So excited!!!
REQUEST MORE INFORMATION NOW...
WE'LL SEND YOU DETAILS AND A
BONUS VIDEO TRAINING 100% FREE!
When you request more info below, we'll send you details about these trainings as well as an invitation to a special bonus video training!
"This isn't one of those four-day "teaser" Practitioner trainings where they bait you with the offer of a certificate so they can sell, sell, and sell like it's some "timeshare presentation"...
"This is an actual NLP Practitioner Certification Training, in the traditional seven-day format with pre-study, or in the 120-hour distance learning home study training, with full explanations and demonstrations, oversight by Certified Trainers and Master Trainers of NLP, and personal interaction with your Trainer that meets and exceeds the standards for certification in the field of NLP for both hours and curriculum (Warning: four-day trainings do not meet these important international standards and are not recognized by others in the field).
"When investing in an NLP training, you want to come to a reputable institute with a reputable training.
"At Transform Destiny, we take NLP trainings seriously, and believe that if you're interested in certification, you should take your training seriously, too." -Michael Stevenson, Founder of Transform Destiny
The next
Live

Training is only 37 days away!

Enroll in this amazing training right now at the special "early-bird price" before it's sold out! Check the schedule for other upcoming dates and locations.

Note: Registration shuts down 10 days prior to the training, due to pre-study requirements. It will not be possible to register after 10 days prior to the training. Please reserve your seat ASAP.

Enroll Now!
TESTIMONIALS
READ THESE HEARTFELT TESTIMONIALS FROM SOME OF OUR GRADUATES:
Graduate Wildo Ballenilla in Waterbury, CT, said:
"I was surprised at how easily NLP could be applied to produce rapid and deep changes. The home-study materials and pre-study materials are an excellent resource."
Graduate Athena Lund in Denver, CO, said:
"I learned more in one week than I felt I learned in 15 years in all the self-development courses I've taken!"
Graduate Marsha Kaprielian in Bakersfield, CA, said:
"This was an incredible class! It was much more than I had expected. I feel comfortable putting the knowledge I've learned into action. This class also helped me to develop goals and define the steps necessary to reach them."
Graduate Cara Elkin in Huntington Beach, CA, said:
"The instruction in NLP was absolutely invaluable to me in my profession and with my clients, as well as with my family and friends. The concepts I learned in this class apply to every aspect of my life."
Graduate Lari Seltzer in Seattle, WA, said:
"The tools this class provides afford limitless opportunities for self-growth and caregiving. Gratitude is not a big enough response. Moving. Thank you both. XOXOXO"
Graduate Chris Shin from La Palma, CA, said:
"I really enjoyed this training. This is the first time where I've felt that the instructors actually cared about their students. The focus wasn't on just "text book" lecture, but interesting hands-on training and personal stories. I will definitely take additional trainings in the future."
"I had the good fortune to choose what I believe is the best NLP Practitioner training in the industry. It would be difficult to imagine a better team to present the information in a more concise and complete manner." -Bob McAdams, Coeur D'Alene, ID"
WHAT YOU'LL LEARN AT NLP PRACTITIONER TRAINING
You'll earn certificates in the following five fields when you come to NLP Practitioner Training, allowing you to practice as an NLP Practitioner, consultant and/or coach, or just to improve your own life, including:
1. Neuro-Linguistic Programming — NLP
We'll teach you how to use all the NLP Practitioner level tools to use with others professionally as well as to use in your own life and with your family and friends.
Unlike those "shortcut" four-day "Practitioner" trainings, you will learn and practice all of these techniques in class, so you will leave with a confidence in your proficiency through the hands-on the guidance of your Certified Trainer of NLP.
You'll discover the inner-workings of both the conscious and subconscious minds, and will master the use of the Practitioner techniques of NLP. Click to see the full curriculum
2. T.I.M.E. Techniques™
T.I.M.E. Techniques™ is one of the most powerful set of NLP techniques. They are used to instantly eliminate all negative emotions, release limiting beliefs, undo past decisions, banish the effects of fears and phobias and completely eliminate the emotions of guilt and anxiety.
T.I.M.E. stands for Time Integration for Maximum Empowerment. If you're familiar with the older timeline techniques, you'll find these updated techniques to be familiar, yet easier, faster and even more powerful. If you're a details-oriented person, you can click to see the full detailed curriculum
3. Ericksonian Hypnotherapy (Conversational Hypnosis)
Learn powerful techniques for communicating directly with the subconscious minds of others using the "conversational hypnosis" language patterns of Milton H. Erickson, one of the most gifted hypnotists who ever lived.
Best of all, you'll be able to use these hypnotic principles in everyday conversations, so that you can be more influential and persuasive in sessions, in your relationships, and even in sales situations. If you're a details-oriented person, you can click to see the full detailed curriculum
4. Emotional Freedom Techniques — EFT
EFT — sometimes referred to as Energy Tapping — is a revolutionary set of techniques created by NLP Master Practitioner Gary Craig. Designed to balance the energy system of the body, EFT removes the effects of negative emotions, physical pain and addictive cravings, such as those from cigarettes, alcohol and drugs.
EFT is based on the same scientifically proven principles as acupuncture and accupressure, but is easy to use by simply tapping on parts of your body. This is a fantastic tool to use with your clients and to teach to your clients for even better results. If you're a details-oriented person, you can click to see the full detailed curriculum
5. Success and Life Coach
Learn how to coach yourself and others to success with the simple seven-step CORE Success Coach Method, created by Transform Destiny Founder, Michael Stevenson, and based on the principles of Neuro-Linguistic Programming and Coaching.
Coaching is one of the leading new professions and offers many personal rewards in the form of personal fulfillment and residual income.
Newsweek recently put it bluntly when they said, "Need a life? Get a coach," and claim that successful coaches "earn six-figure incomes, and proponents say the field is about to explode." If you're a details-oriented person, you can click to see the full detailed curriculum
"NLP could be the most important synthesis of knowledge about human communication to emerge since the explosion of humanistic psychology in the sixties. It may be the ultimate behavioral engineering tool. -Science Digest"
This training is fully accredited and meets the standards for certification in the industry, including those of the International Board of Coaches and Practitioners, the International Hypnosis Federation, and other boards, so your board certification, if you choose to become certified, have world-wide recognition. (How does optional Board Certification work?)
WHY WE'RE DIFFERENT FROM OTHER
NLP INSTITUTES
Ours are the best trainings in the industry because we do more! Our trainings don't just meet required standards like other NLP institutes do — they exceed them.
We are 100% committed to your success. That means that we'll do what it takes to help and support you, both before you attend and after you have graduated the class. Our trainers are fully available to you before, during and after your training to help you create success with NLP.
We are a different, more progressive kind of training company without the ego so typical in the field of NLP. That's why, in addition to everything so far, you'll get these special, extra bonuses which will further contribute to your success:
NLP

PRACTITIONER TRAINING BONUSES!

These bonuses valued at more than $8,000 are also included. You will not find these benefits or bonuses with any other institute:
New! NLP Practitioner Online Pre-Study with Instant Access Including:

Whether you come live or learn from home, your NLP Training begins immediately with the required pre-study courses, which you will love
Fourteen hours of NLP Audios so you'll start learning right away! ($500 value)
Learn Hypnosis... At Home! Training Videos (20 hours: $500 value))
CORE Success and Life Coach Home Study Training Videos (20 hours: $500 value))
NLP iPatterns game that teaches you how to read peoples thoughts by watching their eyes
Start learning NLP right away!
Valued at $1,500!

Professional NLP Practitioner Website Templates (Fully-Customizeable)

Build your professional website in as little as a few minutes (Template 1, Template 2, Template 3)
Edit your site in your browser (no sofware, programming knowledge, or HTML skills needed). Just point, click, type and save
Incudes free website hosting, email autoresponder service, automated webinar hosting, video hosting, blog, and shopping cart pages (including the shopping cart service to charge credit cards) to get you started in your new Practitioner business right away
At least a $5,000 value!

Marketing Yourself to Success Video Training

Learn marketing skills to get new clients — even if you've never marketed a business before!
Discover who your dream clients are and how to find them
Video training from Transform Destiny founder Michael Stevenson, a highly-successful NLP Practitioner who has earned nearly eight-figures in the NLP, hypnotherapy, and coaching business
A $100 value!

Mastering Sales with NLP Online Training

Learn how to sell without being pushy — even if you've never sold before!
Overcome objections when people tell you "no"
This training will put you lightyears ahead of other Practitioner competitors who usually have little to no sales skills (and who often hate sales). You will learn to love sales, because selling is serving when you are authentic and when you and your prospect are aligned.
A $200 value!

Facebook Ads Academy Video Training

Get clients from the unlimited source of leads: Facebook
Learn how to precicely target your potential clients
"Retarget" people who visit your website but don't optin or buy giving you a second (third, fourth, fifth, etc) chance at marketing to them
A $1,200 value!

Proven Word-For-Word Sales Presentation Scripts

Word-for-word sales presentations that work to fill your practice
These are the same presentations Michael and other Practitioners have used to fill their NLP, hypnotherapy, and coaching practices
Three presentations for different time constraints and different audiences
Just memorize the scripts, then personalize them to you and your practice
These scripts can bring you thousands of dollars in business per presentation
A $1,000 value!

Customizeable Email Marketing Templates

Proven marketing emails
Get new prospects to know you, like you, and trust you through email so they want to do business with you
A $1,000 value!

One Month Membership to the E.M.P.O.W.E.R. Program

Two live group coaching calls per month with NLP Master Trainer Michael Stevenson
20 archived calls for you to listen to
A $120 value

28-Day NLP Practice Guide

Make NLP Part of your behavior, personality and lifestyle
Learn to master the NLP Practitioner techniques by practicing them in your everyday activities
Makes the trainings worth the investment, because it's makes you use what you've learned
YOU'LL GET ALL OF THIS: A
$12,500

VALUE!

All of this will be delivered digitally online except the live training. Images are illustrative only, so there's no need to wait for shipping. You get immediate access!
CHOOSE FROM LIVE IN-PERSON OR DISTANCE LEARNING PROGRAMS
Now you can learn in one of two ways: either in-person at one of our live events, or from home in our Distance Learning Certification Program, assisted one-on-one by a Certified Trainer of Neuro-Linguistic Programming.
Each program has exactly the same elements: pre-study, main seven-day training (as video home study), bonuses, and support. The difference is that in the Distance Learning program, you will watch recorded videos of the live seven-day training. Instead of raising your hand in class, you'll ask questions directly to our team, including your NLP Trainer, via phone, email, chat, or text. We're always here to support you. Instead of doing exercises in class, you'll do the exercises at home and record them using the video option on your smart phone or video camera. Once complete, send in your videos and test for evaluation and we'll send your completion certificates by mail when you have successfully completed the training.
Benefits of the Live Training
Group Interaction with Trainer and Classmates
Fast-Paced and Guided
Seven Days of Immersion
Immediate Receiving of Completion Certificates
Benefits of Distance Learning
One-On-One Support of Your Trainer
Re-Review Materials or Topics as You Desire
Work at Your Own Pace
No Travel or Lodging Expenses
Simply make your choice below before proceeding to the shopping cart. Have questions? Just hit the live chat button in the lower-right corner.
THE BEST SUPPORT IN THE INDUSTRY
Every person in our office is trained in NLP, and all of our NLP Trainers are Practicing Master Practitioners with real-world experience.
This means, when you call our office, you will not be given the runaround by "sales staff," as with other training companies.
With Transform Destiny, you'll talk to a real NLP professional who can answer your questions, every time. No other NLP institute we know of can make this claim. This is why we offer world-class, unbeatable support.
ATTEND NOW, PAY OVER TIME: PAYMENT PLANS AVAILABLE
We understand that times have been tough. That's why we've created our new flexible payment plans to make coming to this event a reality for you.
There are no credit checks and no interest payments.
Stretch out your investment so you can benefit now and pay it back over time.
As long as your payments are current, you can come to the training anytime, even before you finish your pay ments.
Payments will be deducted automatically from your credit or debit card.
It's easy to get started! Simply pick a date below, click the Add To Cart button and then choose the "Payment Plan" tab in the shopping cart!
SAVE EVEN MORE! TAX DEDUCTIONS AVAILABLE...
Our trainings qualify under US law for tax deductions. US Treasury regulation 1.1625 permits an income tax deduction for educational expenses including registration fees, tuition, travel, meals, and lodging for courses taken to improve or maintain skills required in employment or business.
Many of our students write off their course investment including all travel expenses! Wouldn't it be nice to get a return on your tax filings for training in NLP? Consult with your tax professional for details about how to get this tax savings when you take our training.
GET THIS TRAINING FOR FREE!
When you become a member of our Accelerate NLP Program, both the live and home study trainings are included with the Gold, the Platinum, and the Diamond levels! Click here for more info.
| | |
| --- | --- |
| First Day: | 10am - 8pm |
| Subsequent Day: | 1pm - 8pm |
EVENT DATES AND LOCATIONS
ENROLL IN NLP PRACTITIONER TRAINING
Yes, Michael, I want to learn NLP, TIME Techniques, Hypnotherapy, EFT and Success/Life Coaching at the Practitioner level. I understand that this is a Limited Time Offer. Plus, I feel completely confident enrolling based on your reputation and the iron clad, money back guarantee. Sign me up now!
I'm ready for:
The 120-Hour Accelerated Certification Course
The 14 Hour Audio Pre-Study Program (Immediate Access!)
The Learn Hypnosis... At Home! Home Study Video Course
The CORE Success Coach Home Study Video Course
Mastering Sales with NLP Home Study
Marketing Yourself to Success Home Study
Facebook Ads Academy Home Study
A Fully-Customizeable Nine-Page Website
Customizeable Email Marketing Templates
Proven Word-for-Word Sales Scripts
Other Valuable Bonuses
Instant Access To These Bonuses and Pre-Study Courses!
Payment plans available at checkout
(Note: Price above include a one-time $100 completion certificate fee)
COMMENTS FROM OTHER HAPPY GRADUATES
Click here to read more testimonials from our graduates.
"This has been a life-changing experience, well worth the investment."
- FRAWNNA
"I'm so excited to use these wonderful tools to release limiting blocks and awaken limitless possibilities for myself and the people in my life. Thank you!"
- Carolee Merrill
"Very good presentation. Lots of personality!"
"Great attitude and fun! Well done!"
"Totally amazing. I can't wait to get out in the real world and use this stuff."
---
Ryan Simmons's Credentials
Certified Master Trainer of Neuro-Linguistic Programming
Certified Master Practitioner of Neuro-Linguistic Programming (NLP)
Certified Master Trainer of Success and Life Coach
Certified Master Success and Life Coach
Certified Master Trainer of TIME Techniques™
Certified Master Practitioner of TIME Techniques™
Certified Master Trainer of Hypnotherapy
Certified Master Hypnotherapist
Certified Master Trainer of Emotional Freedom Techniques
Certified Practitioner of Emotional Freedom Techniques (EFT)
Board Certification by the International Board of Coaches and Practitioners
The Transform Destiny NLP Practitioner Training Program was voted globally as the #2 best NLP training program out of literally thousands of programs around the world by the Global Gurus Foundation.
The Transform Destiny Company is also certified as an approved training institute by IBCP, IHF, ABNLL, and NLC.